---
An invention with unique benefits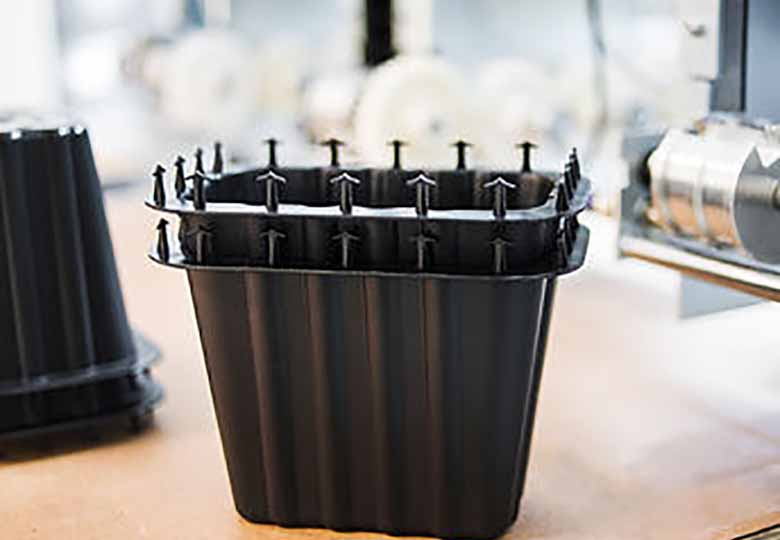 Manufacturing on location as needed
-Frees up warehouse space.
– Eliminates empty pallet transportation.
Weighs only 2 kg​​ (Euro pallet size)
– Easier to handle for the staff at the warehouse.
– Easier to handle for the receiver.
– Lower freight charges.
Flexible
– Special sizes of the corrugated sheets are problem-free-
– Thickness and quality of the corrugated material can be easily adjusted to your needs.
Hygienic
– ​Can be sent worldwide
Environmentally friendly
– Less carbon dioxide emissions.
– Locally produced plastic feet made of recycled plastic.
– Easy to recycle
Self sufficient
– No dependence on daily price of wooden pallets.

Economy
One of the biggest advantages of our system from a financial point of view is that our price is transparent and relatively stable. There are no additional costs such as shipping costs, rents or waste. You also do not need to use valuable work time to sort and count pallets. 

We make the handling of the pallet more effective (production, intermediaries and transport) which enables you to reduce costs. The prices of our finished pallets are approximately 30% less than a wooden pallet. 

Our system can be compared with that of the handling/use of cardboard boxes. 

You buy it unassembled and manage the assembly where and when you need it. The assembly of the pallet is made with an easy to use machine and takes approximately 14 seconds to make. This system enables 90% greater efficiency of pallet transportation and reduces our client's warehouse pallet storage requirements by 90%. Material for 1000 pallets can be stored in 6 sq.m, in comparison with wooden pallets requiring 62 sq.m. 

The pallet weighs less than a traditional pallet which makes it less expensive to transport and lowers the carbon dioxide emissions. For example if you use 50, 000 of our pallets instead of EUR pallets and transport them on average 500 km, you will save approximately 10, 000 litres of diesel, that would reduce the emissions by 25, 000 kg and you would save 15, 000 Euros.
Handling
Losotech's pallet system improves the employees physical work conditions in a warehouse. The physical load when manually handling our lighter pallet is drastically reduced and therefore reduces workplace injuries and the risk of serious workplace accidents.
The pallet also eliminates the risk of injuries caused by nails, splinters or broken wooden boards to the warehouse employee or the receiving customer.
It is substantially easier for the receiver of the pallet to handle the pallet after use. We are currently working with several chain stores and they see this as very beneficial. It is harder to handle a traditional wooden pallet in a shop (hard to lift, lack of space, unhygienic).
Using the materials, cardboard and plastic to transport goods promotes better hygiene both in the handling and transportation processes.
Enviroment
The Losotech pallet is the cleanest and most environmentally friendly solution currently on the market. 

Borås University in Sweden conducted and LCA that shows our pallet system only generates 1/8 (12%) of the emissions that a traditional pallet does in a return flow. A traditional pallet in a return system uses 8.5 times more energy in comparison to our system. 

The weight difference between our pallet and a traditional wooden pallet is approximately 23 kilos which makes the transport cleaner and more environmentally friendly.  The difference for a fully loaded lorry is approximately 750 kilos or 3/4 tonne.

Our system takes away the need to transport empty pallets by 90% which generates considerable carbon dioxide emissions. 

Our products are made out of recycled materials and are 100% recyclable.